Infiniti in Scottsdale's new Phoenix area location and excellent facility at 7601 E Frank Lloyd Wright Blvd in the heart of Scottsdale is LOVED by thousands of Arizona drivers. Providing the finest Infiniti Sales, Service and Parts available, Infiniti of Scottsdale has proud traditions that we work hard daily to enhance. Our new location, on FLW Blvd between the 101 Freeway and Scottsdale Road, has easy access to the 101 Freeway, only 12 short minutes up the 101 from the East Valley.
Infiniti of Scottsdale in Phoenix has new Infiniti cars for sale and offers quality used cars for luxury car buyers throughout Arizona. Infiniti of Scottsdale online offers brand-new 2013 Infiniti cars including the 2013 M37 & M56, and the new G37 Sedans and new G37 Coupes. Infiniti of Scottsdale is a "Level One" Certified Infiniti Internet Retailer and this website is very highly visited. Internet shopping is the source for most of our new and used cars sales. See our unique Internet Benefits Package.

New Infiniti vehicles for all of Arizona are a central part of what we do. Ken Schatzberg, our GM and Managing Partner, has assembled a talented team of people - and this is also key! But we have all of the 2013 Infiniti Cars & SUV's. For instance, the '13 Infiniti G has 3 models. The 2013 G37 Sedan is our most popular model and a steadfast pillar of performance & value and, of course, luxury. Infiniti's Coupe, the G37 Coupe, is widely held to be atop the list of the world's most beautiful cars. And of course, the G37 Convertible brings fresh air to the elements of reliability and performance, long-established by the Infiniti G. Its advanced retractable hard-top is loved by hundreds of Arizona mountain road drivers. For those wanting a bigger, and even more sumptuous way to get around the foothills of the McDowells, the Infiniti M for 2013 is a truly refined and smart choice. The M comes with both a V6 or with a V8, and now the Infiniti M37h is the hybrid of choice for Arizona drivers. Fabulous  engineering is an Infiniti hallmark, but Infiniti drivers want more than just a machine. Crossover SUV drivers can select from among the Infiniti FX37 or smaller but sublimely classy Infiniti EX37, and now the Infiniti JX. Designed with the same luxury, performance and reliability as the Infiniti G, these crossover SUVs bring added utility to the Infiniti brand. Lastly, the Infiniti QX56, our largest super-luxurious SUV regales driveways all over Arizona, from Grayhawk to DC Ranch, from discriminating families and soccer-moms to professional athletes and celebrities. Having arrived at Infiniti of Scottsdale this winter the exciting new IPL G Coupe, is a spectacularly muscular offering, and the first in the Infiniti Performance Line.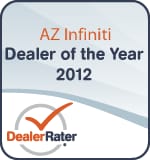 Now available is the awesome new 2013 Infiniti QX56! The is the 2nd Generation QX56 and it has been redesigned from the platform up. Bold and distinctive, our new QX is elegantly spacious. With 400 hp and better fuel economy than the previous QX56, the 2013 QX56 redefines Large Luxury SUV for all the industry to try to emulate.
Infiniti vehicles are among the very best in the world. Used Infiniti vehicles have become very important to our customers, and we stock many fully reconditioned and Certified Pre-Owned Infiniti vehicles. The Used Infiniti G is our most popular used car. The FX37 is also a highly sought after crossover. We also carry many top-quality, carefully reconditioned luxury used cars of other brands.
Scottsdale Infiniti (in the former Pinnacle Infiniti facility) on Frank Lloyd Wright Blvd asks that you consider your next luxury vehicle purchase here at IOS. Become more fully informed, learning about the Infiniti of your choice from an experienced member of our stable and expert sales staff. Experience the difference here at one of the most trusted Infiniti dealers in America. We will deliver to you the best Infiniti has to offer. And remember, it's our people that make the difference. We can be reached online or at 866-374-2645.