Next Event: TBD
(exact date to be announced)
IOS Trackdays is a Series of exclusive events created to thank Infiniti of Scottsdale buyers for their business. It's free. If you drive an Infiniti from Infiniti of Scottsdale, you're invited to join us at our all-day Sunday IOS Trackdays Events at Firebird Raceway. Infiniti drivers who bought or leased their car at EITHER Infiniti of Scottsdale or at Pinnacle Infiniti are invited.Have a question about IOS TrackDays? E-mail Us!
IOS Trackdays Performance Instructional Track Events are very well known throughout the national Infiniti community and have become a sought-after feature of InfinitiofScottsdale.com. IOS Trackdays is an all-day Sunday Event. The next Event in March will be the tenth in our Series. Reservations are required and are being accepted now.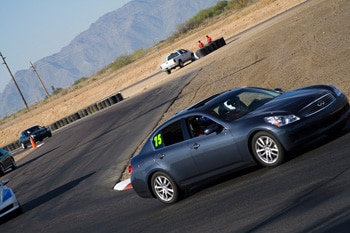 IOS Trackdays is FREE to Infiniti of Scottsdale owners/lessees/drivers.
IOS Trackdays activities begin at 7:30am and gates open at 7am.
These are all day events, though some folks leave a little early.
Our customers drive their own Infiniti vehicles on the track. There are 4 track sessions for each participant
G Sedans & Coupes, EX35's, FX35's, FX50's, M Sedans (and even G20's) purchased here are invited.
All skill levels are invited, from novice to advanced.
Classroom sessions are required for new participants.
As always, there will be in-car, on-track coaches for all new and most intermediate drivers.
The emphasis of IOS Trackdays Events is Performance and Safety Instruction.
All classroom sessions, track activities, and pit/track safety and admin is provided by Larry & Vickie Pond's Team X Factor http://www.team-x-factor.com/, an affiliate of ASA Racing. Nationally known with many years of experience in running track events, ProAutoSports staff (20+ professional drivers/instructors) has received rave reviews from prior IOS Trackdays participants. See ProAutoSports website: http://www.proautosports.com
All driver participants receive ASA certification and ID Cards
Most regular car insurance policies cover our activities because this is driver instruction.
Breakfast, lunch, snacks and beverages will be provided - our treat.
DJ hosted music will be provided in the pit.
We encourage participants to bring lawn chairs, pop-up canopies or other tailgating gear to enhance their pit time.
You are invited if you drive an Infiniti car you bought or leased from us.
If you want to participate in March, please register!
---
IOS Trackdays Video Contest
We do YouTube video contests at our IOS Trackdays Events. Anybody and everybody can enter. You don't have to be registered in the Event. You don't even have to have an Infiniti or a car in IOS Trackdays. Just show up and shoot. There are winners in 3 categories and then an additional Grand Prize Winner!
Categories:

Most Creative/Fun Video
Best Track/Action Video
Best Portrayal of Dealership and/or Infiniti
Prizes:

Category Winners - $100 (per category)
Grand Prize Winner - $300
A track day like ours at a world class race venue like Firebird is a very image-rich environment. While we do IOS Trackdays to indulge our need for speed, we think there are lots of opportunities for some creative fun. Recording the sights and sounds, transmitting the excitement, sharing the fun and the comraderie - these, we think, are untapped potentials. When 80 beautiful & high performance Infiniti machines get pushed to their limits, there is a kinetic excitement generated. When 100 normally law-abiding and reserved owners test their courage and refine their skills at high speeds there is a dynamic which you can see and hear. Plus we could use some cool video for our website!
Here are the two Category winners from April 2010:
Great video from Michael De Rubeis and his family: http://www.youtube.com/watch?v=6QqK09OWTAU.
Category Winner from Ken Terrell: http://www.youtube.com/watch?v=ICTAJV04jLg
Rules:
1) The video must run at least 45 seconds and not longer than 4 minutes.
2) The video must be posted on the internet and must appear in Google Video / YouTube search results for the term "IOS Trackdays" - so make sure you tag it with this expression and use it in the internet title.
3) Video submissions must be made on the Infiniti of Scottsdale Facebook Page
4) All Track rules have to be followed and Professional AutoSports staff makes those rules.
Have a question about the IOS TrackDays Video Contest? E-mail Us!
Photos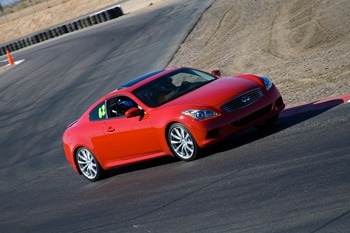 Tom Hartje specializes in Automotive Photography. Tom has been with us for several IOS Trackdays Events now and his work is fantastic!!! If you participated in these events, YOU NEED THESE PHOTOS! View the Folders Sorted by Car Number. See more than 4000 professional photos, from all our IOS Trackdays Events. Photos are conveniently sorted into Car Number folders. Find the car you want! Buy photos and other memorabilia direct from Tom! You'll have memories to cherish and share for years to come!
Order Great IOS Trackdays GIFTS Online
Downloads, Prints, T-Shirts, and other great IOS Trackdays Photographic Mementos
CLICK HERE TO ORDER 'FRAME-QUALITY' IOS TRACKDAYS PHOTOS: HARTJE PHOTOGRAPHY
VIEW / DOWNLOAD FREE BANNER PORTRAITS AND MORE FROM OUR ALBUM: Prior IOS TrackDays Photo Album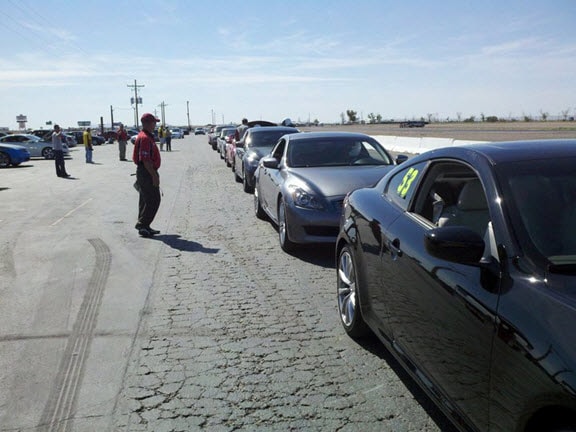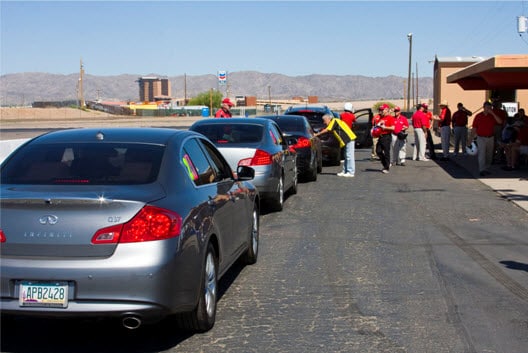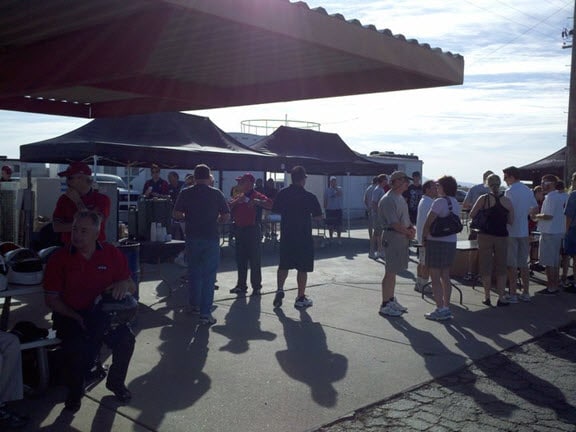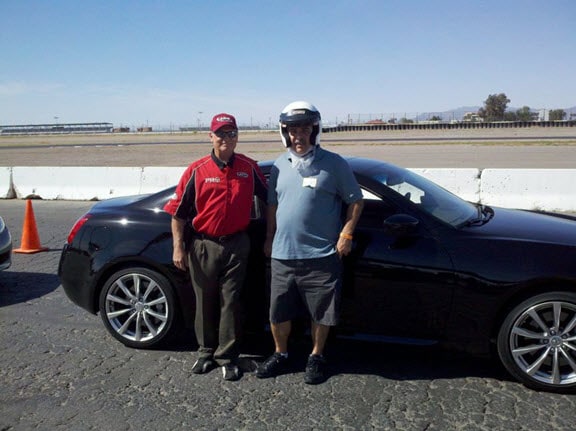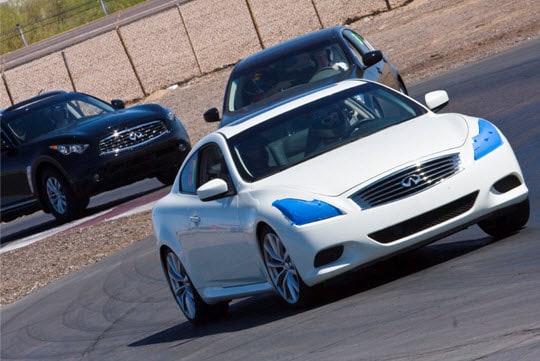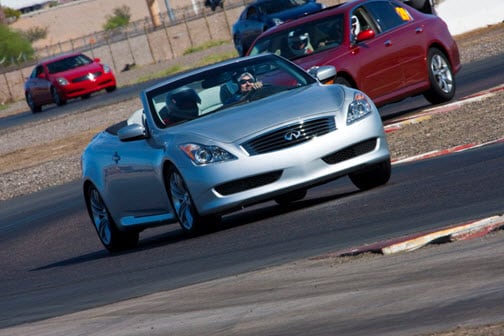 Comments by Participants
We've run IOS Trackdays since 2008 - read comments from some of 500+ Infiniti driving enthusiasts who drove their different G's and M's and EX's and FX's (and even a Q45) at Firebird International Raceway, during our previous IOS Trackdays events:
--------------------
An email string concerning an experience by Jeannette Wood, a happy IOS Trackdays participant
From: Jeanette Wood
Sent: Wednesday, May 19, 2010
To: IOS Trackdays
Subject: track day
Yes, you can put it on the site. My experience has convinced me that Track Day is more than fun. Having confidence in your car and your skills can make a big difference when you are faced with split-second decisions at high speeds. I hope to come with my husband this next time as last time I brought my son. I was a little worried that putting my 23-year-old (with plenty of testosterone!) on the track might contribute to unsafe driving, but now I believe it will make him a better driver. Thanks again, Jeanette.
---
From: Infiniti of Scottsdale
Sent: Tuesday, May 18, 2010
Subject: RE: track day
WOW! Jeannette, wow?.. We do it for fun and for business, but a story like yours fills me with gratitude. Congratulations on your ability to avoid that serious trouble. To the degree that our track event contributed to your skill and confidence, and ultimately your safety, IOS is so very grateful to have been able to be a part of it. May we put your note onto our Trackdays webpage?
---
From: Jeanette Wood
Sent: Tuesday, May 18, 2010
To: IOS Trackdays
Subject: track day
I think you would be interested in knowing that on Sunday morning, I was coming home from Tucson from my son's college graduation. I had my daughter and my 1-year-old granddaughter in the car with me. We were on a stretch of I-10 with 75 MPH speed limits, with most vehicles travelling 5-10 MPH above that. A collision occurred between two cars ahead of us, spinning one in the center lane and one to the right lane.In a split second I had to make a decision to be rear-ended at high speed or make a dramatic slalom maneuver from one side of the freeway to the other to avoid both of the vehicles as well as those coming from behind. Two months ago, I probably would have been rear-ended or run off the roadway at high speed. Because of the recently gained confidence in my vehicle and what it can handle at high speeds (at Track Day), I chose to avoid any contact with aggressive maneuvering. We got through it unscathed. My daughter, after she caught her breath, said "Wow, Mom. That was some fancy driving!"Most importantly, two of the most precious people in my life were not hurt. Thanks so much for the opportunity to participate in Track Day. I think if I had not done that a month ago, I am sure the outcome of Sunday's incident would have been much different. Jeanette Wood.
--------------------
Facebook comments on our first 2011 Trackdays Event:
Mark S. wrote: Thank you (and all of IOS) for an absolutely fun day at the track yesterday. I'm already looking forward to the next one!
Tim said: Just wanted to send you a note thanking you for putting this event on. Absolutely outstanding, incredibly well run, and a blast for my father and I.
Judy wrote: John hi, Jeff and I would like to say thank you so much for last Sundays track day! What a blast we had and how nice that your organization does this for Infiniti owners. We will be looking forward to the next event, thanks again. P.S. Jeff is happy I bought this car!
Hunter Storm wrote: Thanks for the Track Day at Firebird! It was a fantastic time, as always. I was surprised to find that the handling on the new G37S performs much better than both of my G35s. It's amazing how smooth that car feels at different speeds even in tight turns... it's *almost* not fun to drive because it practically drives itself. ;) ...All the driver had to do was sit back, enjoy the ride, and try not to interfere with the car's rhythm and tracking. To anyone who hasn't done one of these Trackdays yet, I highly recommend them. A person can?t have too many skills to pull out in an emergency situation on the road. As a friend once said, "you never want to get leaned over at 100 MPU in a turn and run out of talent."
Nick Gaudio wrote: I had a great day at Firebird racetrack. After all these years now I really know how to drive! Thanks to Infiniti of Scottsdale who sponsored this event. Great organization and planning by John Stanley resulted in an enjoyable and fun day. Thanks
More emails and comments from our happy IOS Trackdays participants:
That was totally awesome! In addition to being highly impressed with your dealership's staff, I have a new appreciation for my M45x which morphed from a nice family sedan into a guided missile on the track (thanks to the coaching form an excellent group of instructors)! The sublime coupling of power and poise in Infiniti products might be one of the best kept secrets in the automotive world - tell corporate to get more aggressive with their advertising! Thanks again for an excellent day out.
Michael K
2008 M45x
---
I just want to thank you for the GREAT day at Firebird. It was a good turnout and you guys did a terrific job! I've owned Porsche's for 30 years, and they have never done for their customers what you have done for yours. Kudos!
Noel K
2008 G37 Coupe
---
Fun!!??!! Oh yeah!! I'd have to say if awards were given for most improved driver, I probably would have been in the running. I HATED the first time out and did not want to go out again, but was not about to accept the "Drives like a Grandma" label my 'sweet' sons had tagged me with! I watched other drivers and rode with Don a couple more times and my next time out was completely different. I learned a lot and had a great time! Thank you again to you, Scottsdale Infiniti, and all involved for a well run, great day!
Dawn D
2008 G35 Sedan
---
Thanks so much for the opportunity to give my G37 a good run out at Firebird. Easily the most fun I have ever had with my clothes on!!! Can't wait for March 2010, make sure I am first on the list. See you then!
Karl B
2008 G37 Coupe
---
IOS Trackday 5 was even better than the last! I had a great time!!! I would like to thank you, Justin and the rest of your IOS Team for an amazing event. This one just happened to fall the day after my birthday. What an awesome present! Thank you so much!
Tim T
2004 Black on Black G35 Sedan
Twin Turbo 630+ bhp at the wheel
---
Just wanted to thank IOS for the great time I had this weekend. It was a great experience and it was also fun getting to know the capabilities of my car. Thanks again, looking forward to the next event.
Regards,
Geoff G
2006 G35 Coupe
---
My name is Larry N. My wife Rosemary and I are former owners of an Infiniti FX-35.
At 9 AM yesterday morning we were driving southbound on 101 when we hit an object in the road while traveling at 65 MPH. It blew out both tires and damaged the rims on the passenger side of our new Nissan Altima. We gradually slowed down and pulled safely onto the right shoulder. I was amazed at how exceptionally well every thing went without anyone being hurt.
In 2008 you invited us out to the Firebird track with our Infiniti FX-35, and I drove around the track repeatedly with an instructor in the passenger seat. He instructed me on the proper handling of a vehicle, and I'm sure this was a big factor during my experience yesterday. My experience at Infiniti of Scottsdale's IOS Track Days enabled me to be calm and do the right things during this high speed emergency. What could have been a collision and serious damage and injury or worse, turned into a manageable situation because I had been trained.
Thank you Mal for inviting us to the Firebird track event in 2008. I believe you deserve credit for helping us avoid what could have been a real disaster.
Larry
2008 FX35
---
Thanks for coordinating a fantastic day! My wife Jane and I had an amazing time and learned a lot as well! IOS truly sets themselves apart by providing unique experiences to their customers! We can't wait until the next one!!
John
2009 FX50S
---
The IOS Trackday event was colossal! I had an incredibly good time and learned much more about the performance capabilities of my G37 coupe. The event was very well organized and the instructors were extremely helpful. Kudos to IOS for hosting such a great event.
Melissa
2008 G37 Coupe
---
This was excellent. It was well organized, the instructors were very competent and courteous, and this was a rewarding learning experience. I am definitely interested in the next one.
Laurie
2008 G37 Coupe
---
I've had a great time and an amazing day! thank you for putting it all together! The class further increased my knowledge about driving and I never knew the potential and capabilities of my car until I finally got to push my car and my driving abilities to the limit on the track! I'll definitely look forward to attending the next one!
Nicholas
2004 G35 Coupe
---
Just wanted to say THANK YOU for all the fun yesterday at Firebird!! Both Mark and myself had a great time!! And we both really appreciated the opportunity to participate in this event. Thank you very much!!
Andee & Mark
2005 G35 Coupe
---
You guys put on a great event. I had a great time and I am sure the others did too. There are about 100 people who are better drivers today than yesterday because of this event. I have purchased a lot of cars over the years and NO dealer has EVER done anything like this for me.
Gratefully
Dave S
2005 G35
---
THANK YOU THANK YOU THANK YOU!!! If you had 100 cars out there today, I was NUMBER 100 in speed, skill and confidence. Instructors Alan and Jim deserve a medal for their patience and skill in keeping me calm and safe, and the poor other drivers sharing the track with me. But on the last run I FINALLY understood, it FINALLY came together, and it felt GREAT! What an AWESOME event! THANK YOU!!!
Peggy U
2007 FX35
---
Just wanted to say thanks to you and the IOS team for putting on a fantastic event yesterday. I know it was a lot of work and expense. But I can tell you it really sends a strong message to me as a customer that IOS is going way beyond the latest transaction in building customer loyalty. I love the Infinities and will keep buying them. (Once our BMX X5 starts breaking down regularly, which is likely sooner rather than later based on experience to date, we'll be switching.) My purchase transaction experience at IOS was fine, but would have to say what you guys demonstrated this past weekend went well beyond a good transaction experience - filling that border between customer satisfaction and loyalty. Now if only you could have made the Cardinals win, it would've been the ultimate driving experience! Thanks again and hope to see you again soon.
Luke K
2008 G37 Coupe
---
Please thank the Owners and Management of Infiniti of Scottsdale for the IOS TRACKDAYS event. It was nicely organized, professionally run and a good opportunity to realize the performance capabilities of my G37. Overall we had a great time and look forward to another future event and seeing the IOS courteous staff. Thanks again.
Barry P
2008 G37
---
I just wanted to express my appreciation to everyone at Infiniti of Scottsdale and Firebird for the amazing day my husband and I had yesterday at IOS Trackdays. It was such a unique and exciting experience for us both ~ we can't wait to do it again! I learned so much about my new Infiniti, it is a truly impressive high performance automobile. I learned a lot about myself as well, I feel much more confident and comfortable behind the wheel. All of you made that possible, I hope everyone had as good of a time as we did. Thank you again for a fantastic day that could not have been better!!!
Dominique R aka Speed Racer
2008 G35
---
Thanks for the photos! Barb and I really had a great day with IOS. It was very clear that a lot of hard work and planning went into this event to make it come off as perfectly as it did. As Jim Roberts, our Infiniti of Scottsdale Salesman, can tell you, we've had a number of fast and fun cars over the years but this G37S really pulls it all together. Barb drives it primarily and it's tough to get it away from her so I can enjoy it too. Please put us on the list for the next track day so that I can get to drive her car! Thanks for a great day.
Tom & Barb E
2008 G37