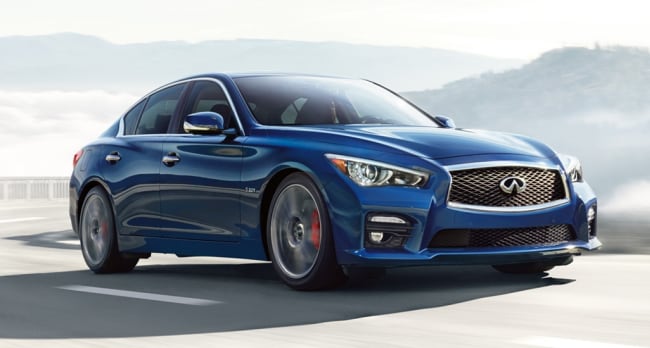 Luxury can be yours for less through the INFINITI lease program at our car dealership in Scottsdale, Arizona. If you've been dreaming about taking home a new INFINITI Q50, Q60 or QX80, leasing may be an option you haven't thought of, yet one that could benefit you financially.
How can leasing an INFINITI benefit you?
Reduced monthly payments compared to buying.
Getting into a luxury car may be more affordable than you realize, especially if you opt to lease. Since costs are only based on a portion of the car's value, monthly lease payments can be much less than when buying.
Less money at inception and zero-down lease opportunities.
Leases generally require little money upfront, and often times, zero-down leases are available. If you decide to lease an INFINITI in the Phoenix metro area, there are several leasing incentives available at our dealership which you may qualify for.
Always drive a car that's under warranty.
People who lease typically drive cars that are always covered by warranty, especially with short-term leases. This offers financial protection to drivers if a mechanical defect arises. In addition, newer cars generally do not need major repairs, which offers further peace of mind.
How does leasing differ from other types of financing?
If you're financing to buy a car, you'll own the vehicle at the end of your contract. Leasing is different in that you don't own the vehicle at the end of your term; you have a choice to turn it in, buy it or choose a different vehicle to lease.
Love that new car smell? Well, you can lease an INFINITI Q50 for as little as two to three years if you'd like, and then move on to a brand-new QX80. This flexibility is highly appealing to some, and you may find that it satisfies your need to drive a new car every few years. Or, you could get to know if you really like a vehicle enough to keep it for the long term and decide to buy it when the lease is up.
Is leasing a car a better option than buying?
This depends on every driver's individual needs and preferences. There are numerous aspects you should evaluate to determine if leasing is ideal for you personally and financially, including how much cash flow you like to have, if you enjoy ownership or prefer upgrading your cars, if you own a business and so on.
Visit INFINITI of Scottsdale to find a large selection of new cars and SUVs for lease in the Phoenix area, including the Q50, Q70, QX60, QX80 and more new INFINITI models. Whether you're interested in leasing a hybrid, sports car or any other type of model, we're sure to have a vehicle that suits your luxury tastes and needs.